Forma Lms - online course on our platform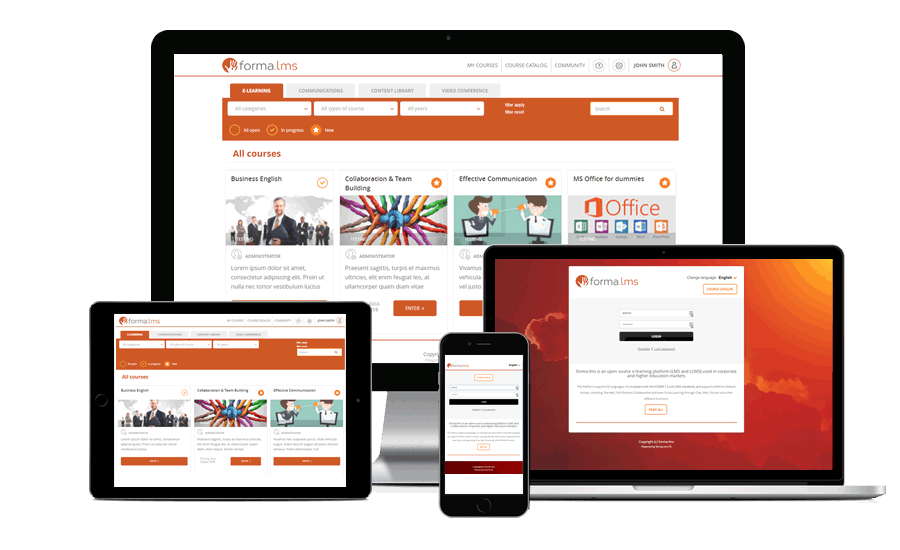 A full immersion to learn how to use one of the best open source elearning platforms with its main advanced features and to immediately try to manage an elearning project!
Why taking the Forma LMS course?

The Forma Lms course gives you the opportunity to quickly know everything you need to start creating and manage your elearning projects on our platform and learn how to use the main advanced features: configuring catalogs, creating enrollment policies, managing courses classroom or implementing a multi-client configuration.
Program
The course covers the following topics:
Forma LMS: what it is and how to use it
What do I do with it? How can I manage an elearning project with Forma Lms?
Creating and managing your first project: creating a course, uploading materials, enrolling users, monitoring progress and delivering certificates.
How to manage certificates
How to assign roles and competencies
How to configure a multi-client management
Setting up personalized subscription policies
Predicting and moderating subscriptions with code
Management of classroom courses and editions
How to enroll
Click on the "Register" button below: once you've paid fee, you'll receive instructions to access our platform and start the course.
Trainers
Alberto Pastorelli
E-learning consultant and web management, in 2005 he founded Elearnit together with Massimiliano Ferrari. Since then he's been supporting dozens of medium-large companies in the implementation of elearning projects.
Massimiliano Ferrari
E-learning consultant and trainer, co-founder and owner of the Elearnit project since 2005. Together with Alberto Pastorelli, since 2005 he's been helping companies to implement elearning projects, to create and deliver content and ... to make things work.
Event Properties
| | |
| --- | --- |
| Event Date | To be confirmed |
| Event End Date | 31-12-2099 |
| Individual Price | €119,00 |
| Location | |